For Immediate Release:
Contact: Dane Huinker DHuinker@WildlifeForever.org
 Hunting and outdoor recreation are some of life's greatest pastimes. The health of our natural resources is critical to preserve our tradition and hunters can help prevent invasive species from infesting our fields, lakes, and rivers.
 By remembering to CLEAN. DRAIN. DRY., hunters can greatly reduce the risk of causing a new invasive species infestation. Before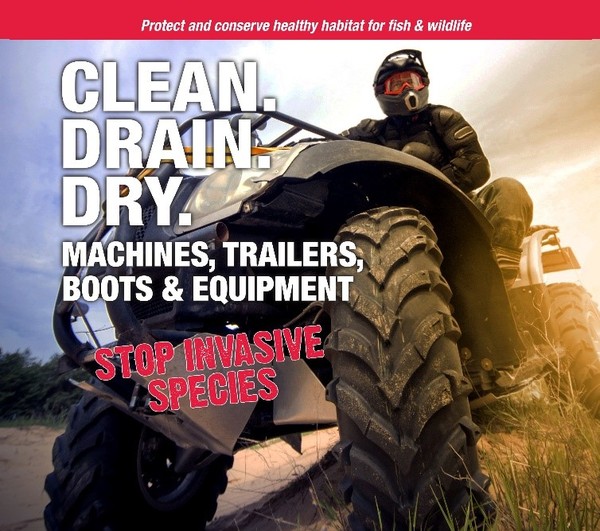 entering a new area and before leaving, hunters should:
CLEAN: Inspect and clean machines, trailers, boots, and equipment from mud and plant debris.
DRAIN: Drain all boats and recreational vehicles.
DRY: Rinse/Dry boots and waders.
"All sportsmen and women, regardless of your passion, run the risk of spreading invaders, so it's important we all do our part," said Dane Huinker, Conservation Program Manager of Wildlife Forever. "Invasive weeds pose grave threats to our outdoor activities by making it harder to access our favorite hunting spots as well as degrading the resource for our wildlife and games species."
While it's critical to prevent the spread of existing invaders from our natural areas, hunters also need to be hypervigilant because new threats are always on the horizon.
The Clean Drain Dry Initiative™ is the national campaign to educate outdoor recreational users on how to prevent the spread of invasive species. Strategic communications, marketing, outreach and educational services provide access to consistent messaging, and resources for local communities to implementing prevention programs. To learn about services, contact Dane Huinker at DHuinker@Wildlifeforever.org or visit www.CleanDrainDry.org.
Wildlife Forever (WF): Wildlife Forever's mission is to conserve America's wildlife heritage through conservation education, preservation of habitat and management of fish and wildlife.  For 30 years, WF members have helped to conduct thousands of fish, game and habitat conservation projects across the country. As a registered 501c3 charity, recent audit reveals a 94% to mission rating.  To join and learn more about the award-winning programs, including work to engage America's youth, visit www.WildlifeForever.org.