The annual FALL Sturgeon Bay Open Team event is scheduled for Sept 10th! Typically a one-day team event this year we added a twist!  Day 1 will still be the traditional team event just like always…… but we have added a seperate Day 2 with a different format for those that wish to get in! It will be a BIG BASS event with a GUARANTEED first place prize! Details of both days events are below!
The Traditional Fall Sturgeon Bay Open TEAM day event, Presented by Ranger Boats, Mercury and Pamps Outboard! Your traditional team format you are used to! Same $200 entry fee per team, same great payback based on number of entries. Saturday Sept 10th but as always is the case could be moved to the 11th if a blow day required it.
Sturgeon Bay Open BIG BASS Day 2!
 Presented by Motorguide  
Guaranteed Minimum Payout!
$125 Per person entry fee, up to 3 per boat full details below. ALWAYS more than 100% payback in cash and prizes. Unique format allows it to be held even on a blow day that might prohibt a regular team event, this BIG BASS event is scheduled for Sept 11th but if a blow day is called for the above Sturgeon Bay Fall TEAM event and it had to be moved to the 11th, then this BIG BASS event WILL be held on Sept 10th instead because competitive BIG BASS events can be held even if the main lake is too rough to navigate. IF that were to happen details would be given on sight how it all works. GUARANTEED $1,500 for the biggest Bass caught of the day and prizes each 2-hr weigh-in session throughout the day based on entries.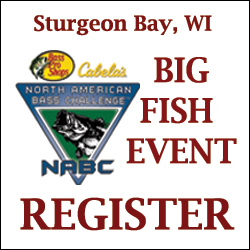 NorthAmericanBassChallenge.com
CLICK HERE FOR BIG BASS DAY RULES!