The Wildlife Forever State-Fish Art Contest has partnered with the Guy Harvey Ocean Foundation, which conducts scientific research and hosts educational programs aimed at conserving the marine environment, to recognize the contest winner with the Guy Harvey Award, named for the world-renowned artist, scientist and conservationist Dr. Guy Harvey. The national contest is designed to teach students the importance of healthy ocean ecosystems.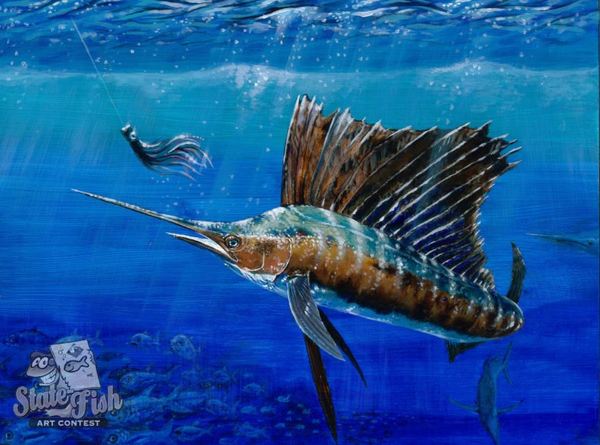 "The Guy Harvey Ocean Foundation is pleased to add the State-Fish Art Program as an extension of our educational outreach to young people. We know the Guy Harvey Award will help foster the next generation of artists and ocean conservationists," said Greg Jacoski, executive director of the Guy Harvey Ocean Foundation.
The contest is open to students from kindergarten through 12th grade. Entries should feature artwork depicting saltwater or anadromous state-fish such as Fighting Tarpon, Chinook (King) Salmon, Garibaldi, American Shad, Weakfish, Atlantic Sailfish, Red Drum (Channel Bass), Humuhumunukunukuapua'a, Spotted Sea Trout, Striped Bass, Atlantic Cod or Steelhead Trout. An accompanying essay should highlight how their chosen species plays an integral role in the ocean.
One student artist will be chosen as the Guy Harvey Award winner and will receive a print signed by Dr. Harvey (up to a $200 value) and be eligible to win additional awards and recognitions. The deadline to submit entries to the Wildlife Forever State-Fish Art Contest is March 31.
"Wildlife Forever is honored to be working with the Guy Harvey Ocean Foundation. Guy Harvey is a leader in fisheries conservation and by incorporating the Art of Conservation, thousands of young people will learn about the role that fish have in their environment and express themselves through art," said Pat Conzemius, President and CEO of Wildlife Forever.
About the Artwork: 2019 National Top 12 Winner Artist William K, Grade 9 New Jersey