As temperatures drop and the leaves begin to change, hunters are preparing for the 2020 season. Invasive species, however, threaten the health of our lands and waters and degrade habitat. Hunters play a critical role in protecting these important areas.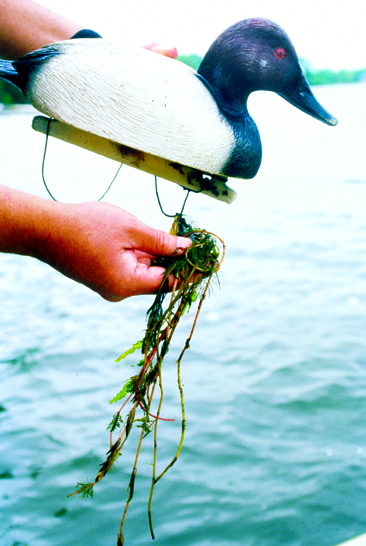 Once established, invasive species can be expensive to control and nearly impossible to eliminate. The Clean Drain Dry steps greatly reduce the risk of causing a new invasive species infestation. Immediately after leaving the water, waterfowl hunters should:
CLEAN watercraft, waders, trailer, motor and equipment. Remove any visible plants, organisms, and mud before leaving any water access.
DRAIN water from decoys, boats, motor and livewells. Pull drain plugs and remove water from all containers.
DRY everything for at least five days before going to other waters OR spray/rinse recreational equipment with high pressure hot water (140 degrees).
The Clean Drain Dry Initiative™ is the national campaign to educate outdoor recreational users on how to prevent the spread of invasive species. Strategic communications, marketing, outreach and educational services provide access to consistent messaging, and resources for local communities to implementing prevention programs. To learn about services, contact Dane Huinker at DHuinker@Wildlifeforever.org or visit www.CleanDrainDry.org.
"Whether you're a hunter, angler, or weekend paddler we need your help to contain the spread of aquatic invaders," said Dane Huinker, Conservation Program Manager of Wildlife Forever. "Invasive faucet snails are of particular concern to waterfowl hunters as they can carry intestinal flukes that can kill ducks if they are ingested."  While it's critical to prevent the spread of existing invaders from our lakes and rivers, we also need to be hyper vigilant because new threats are always on the horizon.
Wildlife Forever: Our mission is to conserve America's wildlife heritage through conservation education, preservation of habitat and management of fish and wildlife. Wildlife Forever is a 501c3 non-profit dedicated to investing resources on the ground. Recent audits reveal that 94% of every dollar supports our award-winning conservation programs. Please, Join Today and learn more about the State-Fish Art Contest®, Clean Drain Dry Initiative™ and Prairie City USA® at  www.WildlifeForever.org.