For Immediate Release:
Contact: Pat Conzemius  
PConzemius@WildlifeForever.org
White Bear Lake, MN – Wildlife Forever, in partnership with Bent Paddle Brewing Co., present the first annual Tails & Ales Crawfish Boil and fundraiser to help raise awarenss about invasive species. The event will be held at Bent Paddle Brewery in Duluth, MN on Saturday August 3rd from 4pm-8pm.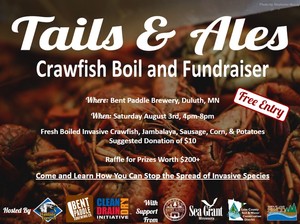 Wildlife Forever, coordinators of the national Clean Drain Dry InitiativeTM, is partnering with St. Louis County, Minnesota Sea Grant, Lake County and North St. Louis SWCD for a unique opportunity to teach the public about invasive species while enjoying great food and beverages. This free event will be offering fresh boiled Crayfish, Jambalaya, Sausage, Corn, and Potatoes. There will also be raffles with over $200 in prizes!
"There's just something about eating a delicious plateful of invasive species that leaves you feeling extra satisfied", said Dane Huinker, Conservation Program Manager for Wildlife Forever.  "All are welcome, come hungry and learn what you can you can do to prevent non-native crawfish and other harmful invaders from spreading to our favorite lakes and rivers."
The free event will also engage kids to participate in an invasive species quiz where they can test their knowledge and have the chance to win fun prizes. Proceeds from the free-will donation will support Wildlife Forever's on-going efforts to prevent the spread of invasive species.
The Clean Drain Dry Initiative™ is the national campaign to educate outdoor recreational users on how to prevent the spread of invasive species. Strategic communications, marketing, outreach and educational services provide access to consistent messaging, and resources for local communities to implementing prevention programs. To learn about services, contact Dane Huinker at DHuinker@Wildlifeforever.org or visit www.CleanDrainDry.org.
Wildlife Forever (WF): Wildlife Forever's mission is to conserve America's wildlife heritage through conservation education, preservation of habitat and management of fish and wildlife.  For 30 years, WF members have helped to conduct thousands of fish, game and habitat conservation projects across the country. As a registered 501c3 charity, recent audit reveals a 94% to mission rating.  To join and learn more about the award-winning programs, including work to engage America's youth, visit www.WildlifeForever.org.
####