For Immediate Release:WHITE BEAR LAKE, MN- Wildlife Forever is proud to recognize the USDA Forest Service for their growing support of the State-Fish Art Contest at the 2019 EXPO. By teaching youth, the Art of Conservation, the national partnership reaches thousands of youth each year and is used by schools as a gateway activity and program to encourage outdoor recreation.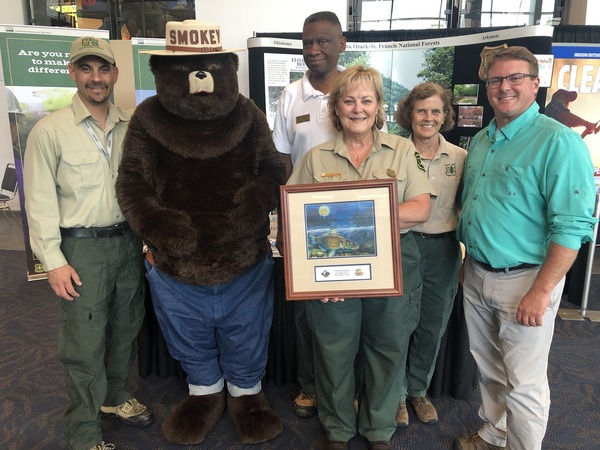 Tammy Wentland, Acting Deputy Forest Supervisor at Ouachita National Forest, attended the Expo and said "The Southern Region is proud to partner with Wildlife Forever to engage youth and support conservation education. State-Fish Art allows students to make their own connection to nature through the arts. "
"I was honored to recognize the Forest Service at the EXPO this year. Their ongoing support of the State-Fish Art Program has made long lasting impacts on the next generation and their participation in fishing, art, and conservation," said President and CEO of Wildlife Forever, Pat Conzemius.
The award-winning Wildlife Forever State-Fish Art® Contest, presented by Bass Pro Shops, connects children, art and conservation together! To enter, young artists create an original illustration of any official state-fish and written words detailing its behavior, habitat, and efforts to conserve it. Entries are due postmarked by March 31st each year.  For details on contest rules, entry forms and past winners, visit www.statefishart.org.
About the USDA Forest Service: The USDA Forest Service is a multi-faceted agency that manages and protects 154 national forests and 20 grasslands in 43 states and Puerto Rico. The agency's mission is to sustain the health, diversity, and productivity of the nation's forests and grasslands to meet the needs of present and future generations. Learn more about the Forest Service fisheries program at: https://www.fs.fed.us/science-technology/fish-wildlife-plants/fisheries-program
About Wildlife Forever (WF): Wildlife Forever's mission is to conserve America's wildlife heritage through conservation education, preservation of habitat and management of fish and wildlife. Learn more about the award-winning programs, projects and work with invasive species, at www.WildlifeForever.org